Star Rating: ★★★★
The Sun The Moon And The Stars is a searing new play from Dipo Baruwa-Etti. Enacting as an animated internal and external monologue, the piece dextrously intertwines passages of apostrophe with intense moments of extrinsic dialogue, delivered by a single actor and peppered intuitively with breathtaking instances of spoken word and physical theatre. The narrative following Femi, who is repeatedly visited by her brother Seun's ghost as trial proceedings begin, attempting to convict his murderers for manslaughter. (Which, as it is in many cases, is pursued instead of murder charges as they are easier to get a conviction on), an already seemingly poor attempt at justice for a young black man, who had plans to be an architect and his whole life ahead of him. Yet, when it appears like the murderers are going to get away with it entirely, due to a convenient lack of evidence and unreliable eyewitnesses, Femi is forced to take matters into her own hands. As Seun's ghost reveals his final moments to her, the piece explores Femi's rage, as his reappearance as well as the trial, mean she is forced to come to terms with her grief nine months on from her twin brother's death, spurring her on an impassioned and often morally ambiguous quest for a tangible justice.
Emotively and authentically Baruwa-Etti's play traverses the complexities of dealing with loss and trauma alongside asking the big question, how do you get justice for a life taken away by others? Divisively showing it to be the fruitless quest it will always be, nothing being able to bring the deceased back, not even a life for a life, whether the men responsible are sentenced to one year or twenty four years they would still be alive, the one thing Seun no longer is. The piece therefore, creates an intriguing dichotomy and discourse upon the subjoined ideas of justice and peace. Femi being characterised as wanting justice at all costs, willing to do the unthinkable to achieve it, whilst her brother's ghostly presence is shown to want closure, not only for himself but for those who knew him, reprimanding Femi and asking her to help him. Making it an interesting choice for them to be twins, intrinsically connected by birth, like the two prepositions, but also subordinates with independent aims and opposing opinions on how they can be achieved. Baruwa-Etti thus beautifully draws on this twin dynamic, intelligibly playing with symbolism and mythology in order to build this intricate and complex aforementioned discourse, with twins in mythology often being linked to justice and morality (i.e Inanna and Utu in Ancient Mesopotamian religion). The initial reference to Femi as a twin, insightfully has her refer to the idea that twins are usually either tragic or remarkable, this instance on the surface instinctively makes you think of the abundance of mythology surrounding twins, from the formidable like Apollo and Artemis to the tragic, such as Romulus and Remus, planting the idea that this story is a kind of Greek tragedy. However there is more to be explored here than you think, firstly, Femi is a British Nigerian, therefore Baruwa-Etti sews in Nigerian mythology and ideologies with ease, i.e Taiwo and Kehinde and Mawu-Lisa. Having Femi reflect upon her and Seun's lives, describing how she, as the one who had the first taste of the world, the 'Taiwo', was meant to check it all out for both of them, whilst Seun, the one who lagged behind and who, Femi describes as following her lead and copying her, the 'Kehinde', as the first one gone, he might now be checking out the afterlife for them. An inkling of beautiful cultural nuance and a powerful look into how grief can easily affect consciousness and mental health, leaning people towards suicide, whilst effortlessly nodding to twin mythologies relating to the afterlife, (i.e Osiris and Isis in Egyptian mythology). Similarly, regarding Mawu-Lisa, many mythologies link deities who are twins to the planetary elements such as the stars (i.e Pollux and Castor/Arsu and Azizos in Ancient Syrian mythology), the sky and the earth (i.e Geb and Nut in Ancient Egyptian mythology) or the sun and the moon, Mawu-Lisa being Nigerian twin deities associated with the sun and the moon, giving the piece it's name and overarching theme of Femi referring to feeling shadowed by the moon, (her grief) and wanting to experience the sun, something that can also be linked to the engendered temperament of the characters. Mawu is typically seen as a female deity associated with the moon, gentle and forgiving, whilst Lisa is associated with the sun and is fierce and punitive, the two are often described as complimentary. So it is interesting that Femi's character is more inline with the sun in the sense she is acting out, full of rage and grief, whilst Seun's ghost is calmer, firm but ultimately apposite caring more for those he loved than the fates of his murderers, their two temperaments appearing to be diametrically opposed instead of complimentary, each pursuing a different means to an end. In fact, it's like by losing her twin brother there's more of an imbalance there for Femi, whilst she is hotheaded like the sun, she also experiences a clouded sense of morality in her quest for justice, which can be seen as linked to the idea of the moon being darker, connected to the unconscious and sometimes things not being seen clearly, a reasoning for her rash actions. This also again strongly refers to twin mythology, where twins become personifications of order and chaos, (Jukihú and Juracán in Amerindian culture), perhaps Femi's in balance is her chaos, whilst Seun's ghost has appeared in order to restore order? Whilst stars are often seen as the spirt and cosmic order linking to the cycle of life, suggesting that true justice is unattainable, death is just part of life and nothing can bring someone back, once you accept this and absolve yourselves of responsibility, peace and closure thus becomes the desired step beyond grief. Similarly the piece artistically plays on the Shakespearean tragedy Hamlet in its opening and throughout, with Femi rhetorically asking what would you do if you saw a man standing at the end of the bed at midnight, going on to explain it depends on if you recognised him and that it was in fact her dead brother, a definite parity to Hamlet's father appearing to him at the end of his bed to report a murder most foul, this occurrence for Femi thus plants the seed for her to avenge Seun's death, and see that justice is served , the ghost having shown her how he died, so her quest for justice has a Hamlet extremity to it, 'This is bout those men who stripped him of his crown', crown being a clear link to murdered king of Hamlet, Femi's sought justice transpiring to not be exactly what Seun's ghost intended. The sections of spoken word, perform as phenomenal modern indictments of Shakespeare's verses of iambic pentameter. Thus Baruwa-Etti writes a piece that is emotionally strong, intelligible, sprinkled with wit and filled with metaphorical Easter eggs to be enjoyed. Tenderly and splenetically delivering a rightfully impassioned black perspective on the legal system that repeatedly fails minorities and makes them feel less than human. Whilst accurately depicting what it is like to reside in a society built on inherent racism, racism that determinately can cause a black man, like Seun, to lose his life in an instant. A tragic mirror to reality. Vehemently proclaiming that black is beautiful, and black should never be seen as a mark of being less than.
Dipo Baruwa-Etti's writing prowess is also wonderfully complemented by the dexterity of the design, Peter McKintosh does much encapsulate the poetic nature of the work, creating a box which is not only used as the playing space, but becomes a physical directive of Femi's grief, entrapping her in it as she does not leave this containment of space until the end of the piece in a moment of euphoria, thus throughout she is in a kind of stasis as she can't see a future for herself beyond her pain, a man made purgatory as it were. The visible expanse beyond the box therefore becoming this unseen future. The forward nature of the set not only shrinks the playing space, allowing Kibong Tanji to not appear swallowed up by such an extensive stage surrounding her, but it brings her forward, closer to the audience, making the piece feeling more intimate, engaging and personable. Whilst the engendered emptiness, with little more than a chair by way of moveable set pieces, does much to covey the emptiness Femi must be feeling without a twin at her heels. Whilst the design can also been seen as doing much to resonate the similar purgatory her brother's ghost must be in, trapped between this world and the next, the crosses carved into the walls on the left and right of the box, as light bleeds through them, become symbolic windows to the beyond. They can refer to traditional Christian beliefs surrounding cross iconography, such as a sign of resurrection (the ghost's appearance), suffering (the brutal murder he experienced) and purgatory itself, the initial state after death where you supposedly carry crosses which are the sins you must be absolved from before you can ascend to an eternal life. Whilst other symbolic meanings of cross iconography are also intrinsically referenced here, such as the sun revolving around the earth, or how in parts of Africa, it is believed that a crossroads is a place where the worlds of the living and the dead meet. Making McKintosh's design another performative choice full of depth and intelligence, expertly carried out.
This synergism of the writing and design also effortlessly filters through to the intuitive complexities of Oliver Fenwick's Lighting Design and Tingying Dong's Sound Design. As aforementioned in reference to the light bleeding through the cross cutouts, Fenwick and Dong do much to perpetuate the symbolism of the piece. For instance when the defence begin their opening statements, Femi describes their protestations as full of lies, buzzing around and stinging her as she helplessly listens, thanks to Dong we hear a very real sounding hoard of bees flying past, yet that is shown to subconsciously plant itself into Femi's brain as the motif is repeated when something untrue or not wholeheartedly meant is said, adding a further layer of understanding to Femi's internalisations, though what she says maybe stinging and bitter or even threatening, there's a sense that she doesn't mean it or won't go through with it. Similarly the designers seamlessly work in tandem to create the sense of this ghostly presence appearing, from the realistic ringing sound overpowering Femi's ears and the blurring of the remaining sound or music behind it, to the stark change in lighting state and appearance of a pulsing white light, use of shadows and moving lights. As sound and lighting elements intensify we truly get a sense of the crushing grief and pain that Femi is subjected to, the euphoric moment of release when the stars, (swirling white lights), fill the playing space and auditorium, is both a moment of aesthetic wonder and a beautiful symbolic image of both Seun and Femi finally getting peace, Femi exiting upstage and finally leave her box of grief behind. Referring back to the lighting reaching out to the auditorium, this effect is employed intermittently, the house lights coming up and the lamps around the seating areas lighting and dimming, this again does much to give the performance an intimate and engaging feel, creating this dynamic that Femi is talking both to herself and at you directly. Fenwick and Dong thus proving themselves to be consummate designers and atmospheric geniuses.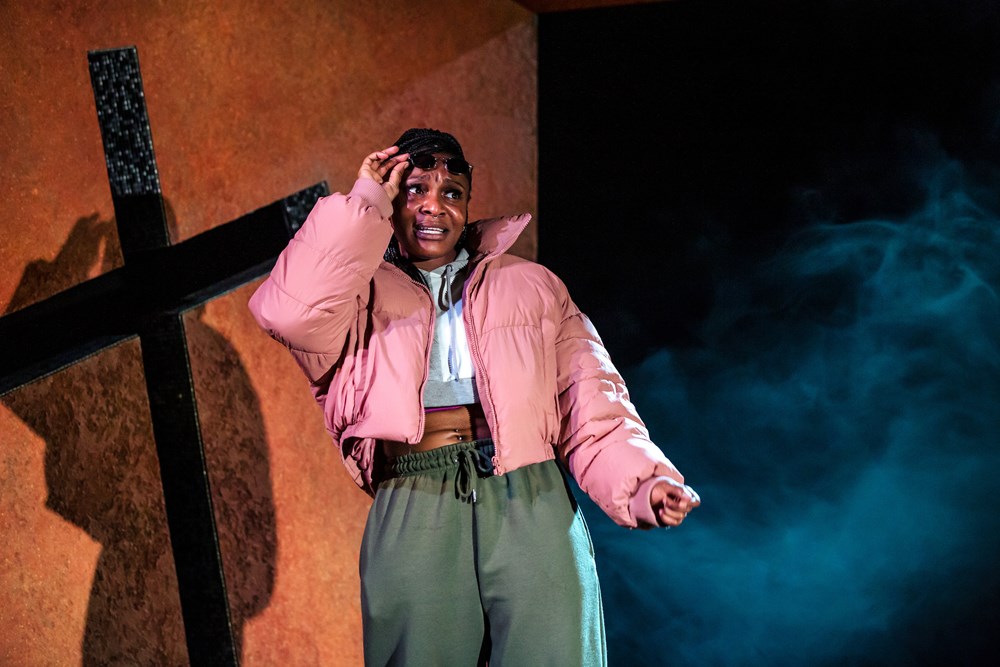 Kibong Tanji (Femi) is an absolute powerhouse, her performance is raw, energetic and emotively intelligible. Dextrously conveying the character's transcendence from despair to madness. She is an exceedingly malleable actor, able to burst rhythmically into passages of spoken word, deliver animatedly both sides of dialogue between characters without losing the pacing or meaning, as well as authentically divulging the inner workings of Femi that bounce from zero to one hundred in seconds. Dannielle 'Rhimes' Lecointe's Movement Direction is particularly compelling, these physically demanding moments being expertly performed with attack by Tanji. Nadia Fall's Direction is thoughtful, engendering an intensified and heightened delivery, that aims to convey just how much grief decimates Femi's sense of self and her morality, utterly clouding her judgement. Arguably there is little contrast, because Femi is the only onstage character, meaning her consistent rage and lasered intent towards finding justice can cause a tendency for the delivery to feel repetitive and desensitising as it is so consistently heightened, Tanji frantically delivering line after line as she paces around the confined space, a cacophony of sound and lighting following her lead, creating this crushing image of Femi being trapped in her grief and even consumed by it. But this is all the intention of Fall's direction to convey an almost indoctrinated Hamlet-like rash and impulsive character and it does ultimately work, even if it feels a little jarring, and at times incoherent and in-empathisable. Though the character doesn't display reflective moments of indecision, like Hamlet, this can be attributed to the loss of her twin, she is imbalanced and only half of a whole, therefore she is half of Hamlet, linking back to the aforementioned Sun and Moon temperaments of Femi and Seun.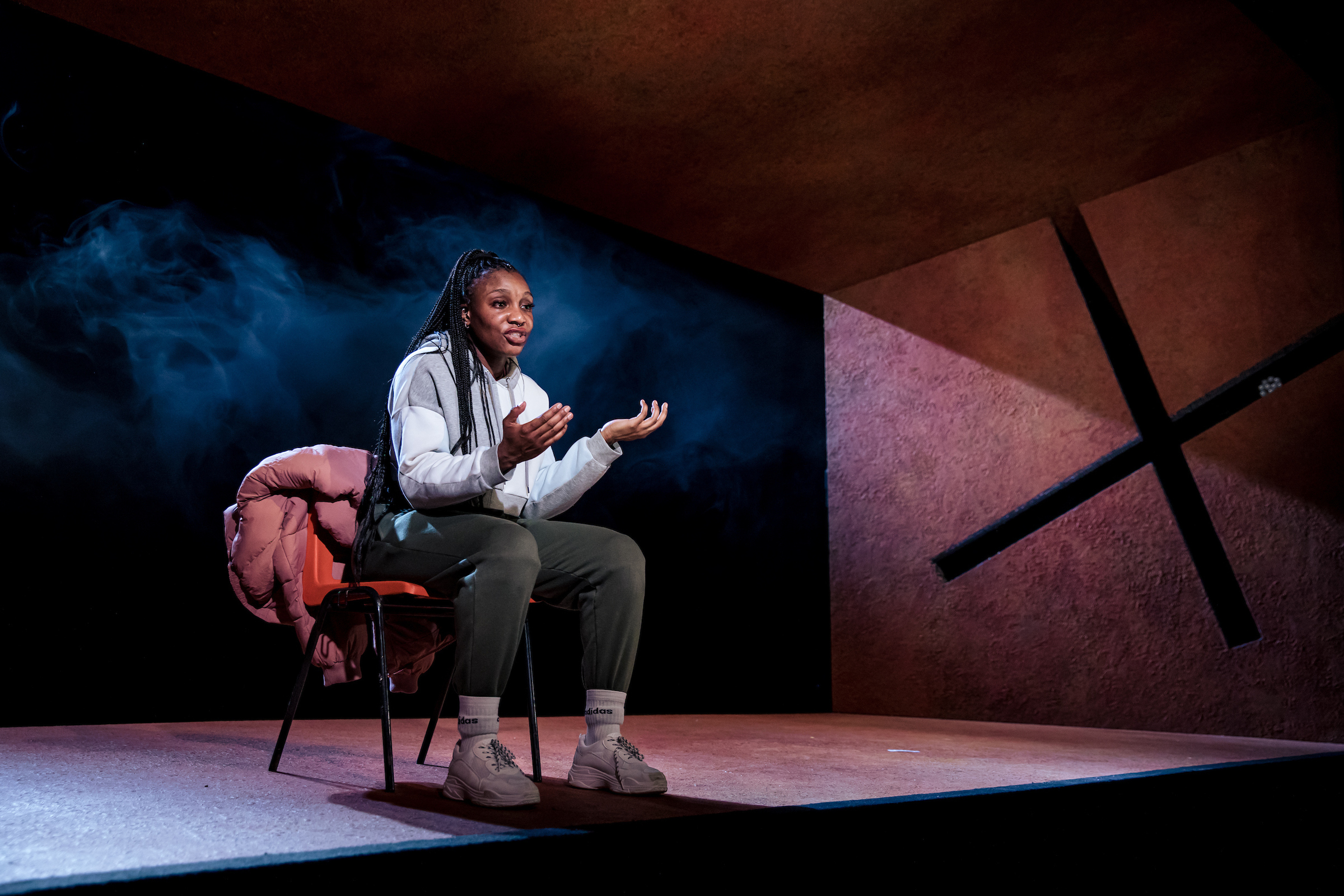 To conclude, The Sun The Moon And The Stars is a wonderfully tragic expose on grief and the quest for justice. Its conception and delivery is full of artistic and symbolic wonder. Dipo Baruwa-Etti is an exceptional storyteller, we would definitely recommend a trip to see it. Click here to book now.
Credits: Written by Dipo Baruwa-Etti, Directed by Nadia Fall, Starring Kibong Tanji, Designer Peter McKintosh, Lighting Designer Oliver Fenwick, Sound Designer Tingying Dong, Movement Director Dannielle 'Rhimes' Lecointe, Assistant Director Justina Kehinde, Sound Design Mentor Christopher Shutt